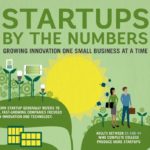 Some interesting "numbers" on "startups".
The term 'startup' is used too broadly to have any meaning . Many of the numbers really apply to small businesses  – which is not synonymous with 'startup'.
And, I hesitate to call these statistics or data because they are subject to much interpretation. For instance, this infographic perpetuates the meme that 50% of new businesses fail within 3 years. This is a gross generalization. 50% may not exist after 3 years, but this also may be due to other factors such as the owner retiring and closing the business.
You be the judge:

From The Payroll Blog