Last week I started a new feature on this site specifically for first-time entrepreneurs: A repository of quotes, tips and advice collected from around the web, but also contributed by some of the most experienced and respected minds in entrepreneurship, technology, and venture investing. I have been posting (and tweeting) at least one of these tips per day while providing pages where entrepreneurs can access most of the tips at any time.
In the process of soliciting quotes and advice from the experts, I stumbled across a fun idea inspired by a submission from one of our experts. Our expert, investor, mentor and widely respected thought leader and blogger Francine Hardaway, replied with some nuggets of valuable advice:
[quotcoll id=57 tags="risk" show_source=true]

What a lovely haiku-like (or more accurately, quatrain-like) piece of entrepreneurial poetry.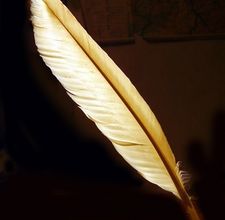 So I thought this would be a great creative challenge for our most knowledgeable entrepreneurial experts: An Entrepreneurial Poetry Contest – the challenge is not only come up with a few valuable pieces of advice for first-time entrepreneurs, but to phrase that advice in the form of a few short lines of poetry – 3, 4, or 5 lines (haiku, quatrain or cinquain). Don't worry too much about adhering to the classical forms of poetry, as long as we get some valuable entrepreneurial advice in a form that is both memorable and entertaining.
I will be posting and tweeting the submissions (along with attributions to the authors and their websites) in the coming weeks. Also, I'll make a little contest out of this, where entrepreneurs can vote on the best answers and I'll come up with some sort of prize for the top entries (as if the international honor wouldn't be enough).
While I know I am the person most ill-suited to come up with any submissions, I am confident that my eclectic list of friends and colleagues are particularly suited, talented and up to the task. And during the contest, we'll try to get some brave young entrepreneurs to do some interpretive readings of the poems on youtube, for a different kind of contest. So let's get it started!
Please e-mail me or otherwise contact me with your ideas for this "entrepreneurial poetry" contest – I've even made it easy by providing a "submit" link, below.
Good luck, and I really do look forward to reading and posting the creative entrepreneurial advice!